TransPol-5
Ensure perfectly prepared surfaces in the field.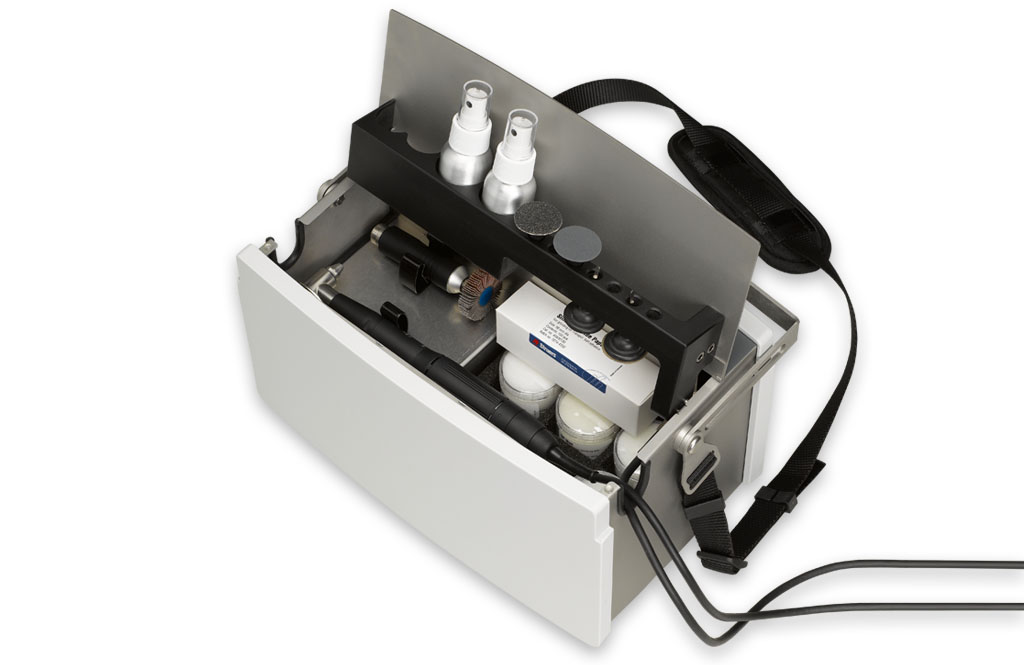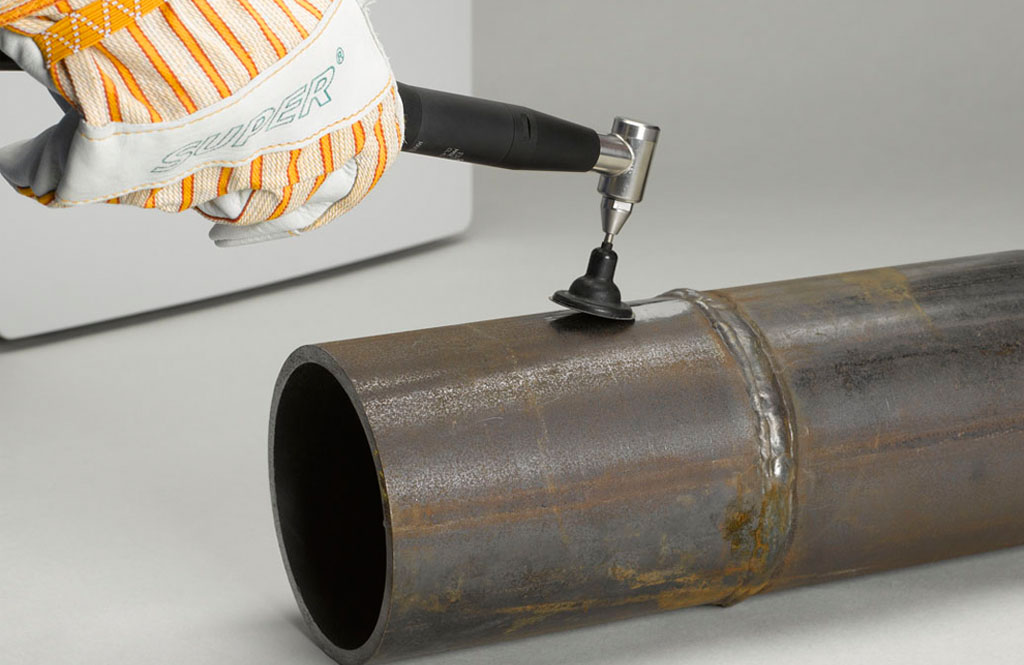 TransPol-5 facts
High performance and portable grinding and polishing tool
Easy remote-controlled operation
Total solution for prepared surfaces
High performance motor ensures sufficient power working even with the coarsest paper.
Battery or mains powered with an exchangeable battery pack
Remote-controlled operation by use of a 3.0 m flexible cable
All necessary accessories are included, and are easily stored in the hold of the carrying case.
Trans P ol-5 is a portable, non-destructive metallographic grinding/polishing machine built to withstand rugged field conditions. Very compact 32 mm grinding and polishing disks mean that welds, in even the most inaccessible places, can be handled.
Designed for field work
TransPol has been designed for field work. The equipment is compact and light for easy transport and can be used literally under any conditions.
Effectively reveals changes in the microstructure
The Struers TransPol method effectively reveals changes in the microstructure of the metal and so prevents possible damage because of cracks and leaks.
Model types
TransPol-5

TransPol-5
Portable, metallographic grinding/polishing machine with a 3.0 m connection cable. Battery or mains operation, 30V or 100-240V / 50-60Hz. Complete with shoulder strap, rechargeable battery pack, battery charger, reduction gear unit, straight handle, right angle handle, and four rubber disks. TransPol-5, 30V or 100-240V / 50-60Hz

Struers' equipment is in conformity with the provisions of the applicable international directives and their appurtenant standards.
Struers' products are subject to constant product development. Therefore, we reserve the right to introduce changes to our products without notice.
Technical Data
TransPol-5 Technical Data Sheet
Struers Technical Data Sheets are designed to help you make the best choice of equipment for your particular purpose. You can find important information such as capacity and performance specifications, dimensions, weight, electrical data, noise levels, ambient conditions, and safety. In many cases you can also obtain an overview of accessories offering higher capacity and performance.
Download Technical Data Sheet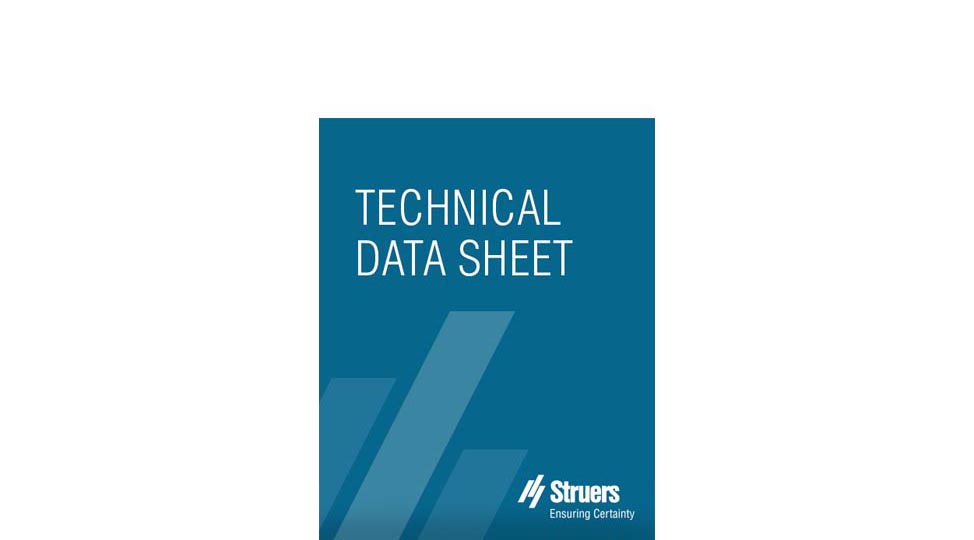 Grinding & Polishing consumables
MD Grinding

For plane and fine grinding with virtually no artifacts

Silicon Carbide Foil and Paper

For plane and fine grinding

Grinding stones and discs

For high removal grinding with low deformation

Diamond Pads

For plane and fine grinding of very hard materials

Polishing cloths

For any material and preparation goal

DP-Lubricants

For accurate cooling and lubrication while polishing

DP-Products

Diamond suspensions in a wide variety of grain sizes and formats

DiaDuo

All-in-one diamond suspension

DiaPro

All-in-one diamond suspension optimized for a specific polishing cloth
Ensuring certainty with Struers tailored support services
To optimize your processes, enhance your quality control performance and ensure equipment availability, we offer a wide range of services, training and support.
From preventive maintenance to training and process analysis, our Service Plans, Service Packages and Single Services are delivered by experienced technical service engineers and application specialists – and can be tailored to match your needs.
Correct preparation solutions
"True structures require proper and correct applications. Different material properties require broad application knowledge. Struers application specialists are experts in optimizing preparation methods, because application knowledge is necessary to select the correct preparation solutions. Your material – our application solutions."
Birgitte Nielsen
Application Specialist, Struers ApS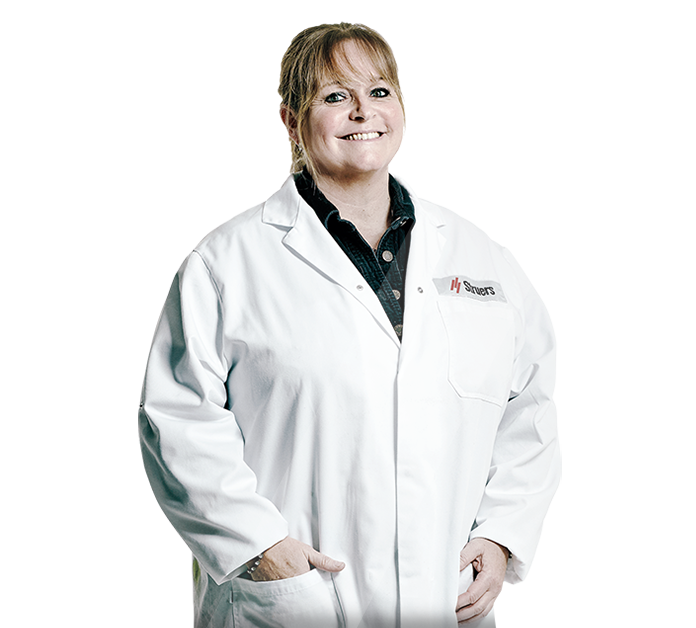 MEET SOME OF OUR CUSTOMERS
Don't make do with what we say! Look for the truth in the experiences of the people who use our equipment and knowledge. We asked a few of our loyal customers to tell us what they think is most important about Struers.


We are extremely satisfied with the highly skilled service delivered by Struers. They always meet our needs quickly and efficiently.

BRP Powertrain GmbH & Co. KG (Austria)

Herr Thomas Brunmair

Supervisor Material Lab


Since adopting Struers equipment, we have made significant savings within our manufacturing process as a result of reduced manpower requirements and productivity improvements.

Nissan Motor Manufacturing UK Ltd.

John Smart

Production Supervisor

My relationship with Struers dates back over many years. The reason is their expert advice, good service, and their use of our application laboratory in the case of difficult questions that are best resolved on-site.

WWU Münster, Institut für Planetologie

Ursula Heitmann

Mineral Specimen Preparer