Secotom Remote
User-friendly equipment for materialographic cutting of isolated materials in enclosed cells

Secotom Remote facts
Movable cutting table
Fast positioning
Intelligent feed control
75-203 mm (3-8") diameter cut-off wheel size
The Secotom precision cut-off machine is one of the components in the Struers Remote System. The equipment is adapted to allow remote operation and remote handling of specimens. Maintenance can be carried out in the cell, using manipulators.
Very user-friendly and easy to operate
Height adjustment
Height adjustment of cut-off wheel allows for easy compensation for wheel wear
Variable cut-off wheel speed
Variable cut-off wheel speed provides optimal cutting speed with different wheel types and sizes
Model type
Secotom Remote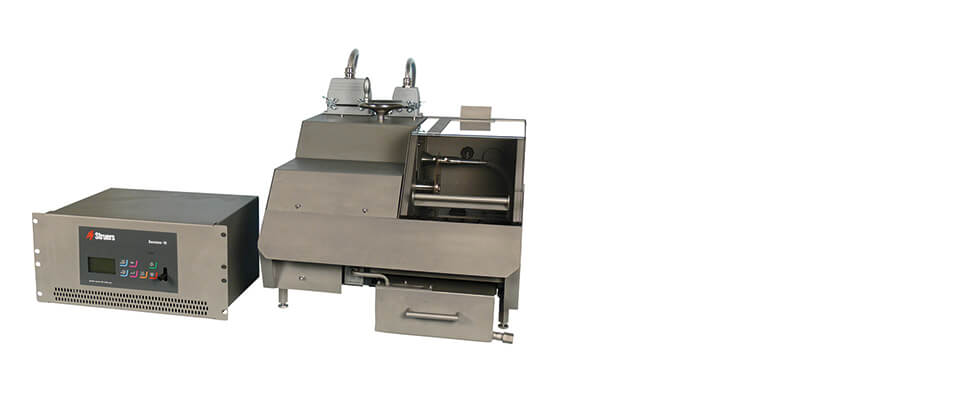 Secotom Remote
Tabletop, precision cut-off machine with moveable cutting table, and variable speed. Automatic feeding with electronic control of feed speed. Motorized positioning system and digital read-out. Complete with control box with electric parts and controls for rack mounting outside the enclosed cell, recirculation cooling unit, flange set 65 mm dia. Cut-off wheels, specimen holders, additive for cooling fluid, and clamping tools are ordered separately. Length of supply cable is 8.0 m; if other length is wanted, specify when ordering. 1/3 x 200-240 V / 50-60 Hz.
Struers' equipment is in conformity with the provisions of the applicable international directives and their appurtenant standards.
Struers' products are subject to constant product development. Therefore, we reserve the right to introduce changes to our products without notice.
Technical Data
Secotom Remote Technical Data Sheet
Struers Technical Data Sheets are designed to help you make the best choice of equipment for your particular purpose. You can find important information such as capacity and performance specifications, dimensions, weight, electrical data, noise levels, ambient conditions, and safety. In many cases you can also obtain an overview of accessories offering higher capacity and performance.
Download technical data sheet
Cutting consumables
Abrasive cut-off wheels

Extremely hard ferrous metal (500 < HV < 1400).

Abrasive cut-off wheels

Very hard ferrous metal (400 < HV < 800).

Abrasive cut-off wheels

Hard Ferrous metal (275 < HV < 750).

Abrasive cut-off wheels

Medium hard ferrous metal (200 < HV < 550).

Abrasive cut-off wheels

Medium soft ferrous metal (100 < HV < 500).

Abrasive cut-off wheels

Soft ferrous metal (75 < HV < 375).

Diamond cut-off wheels

For materials with HV 500-2400.

CBN cut-off wheels

For materials with HV 500-2400.

Additives for cutting

For recirculation, cooling and cleaning.
Ensuring certainty with Struers tailored support services
To optimize your processes, enhance your quality control performance and ensure equipment availability, we offer a wide range of services, training and support.
From preventive maintenance to training and process analysis, our Service Plans, Service Packages and Single Services are delivered by experienced technical service engineers and application specialists – and can be tailored to match your needs.
Correct preparation solutions
"True structures require proper and correct applications. Different material properties require broad application knowledge. Struers application specialists are experts in optimizing preparation methods, because application knowledge is necessary to select the correct preparation solutions. Your material – our application solutions."
Birgitte Nielsen
Application Specialist, Struers ApS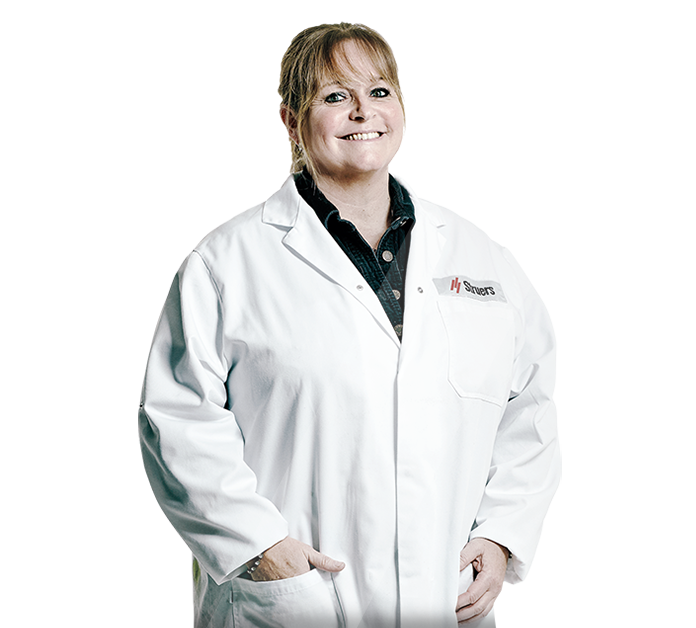 MEET SOME OF OUR CUSTOMERS
Don't make do with what we say! Look for the truth in the experiences of the people who use our equipment and knowledge. We asked a few of our loyal customers to tell us what they think is most important about Struers.


We have been using Struers equipment and consumables for almost 30 years and have benefitted enormously from their unparalleled service and applications support.

John Crane UK Ltd. UK

Bill Taylor

Materials & Forensics Engineer


We are extremely satisfied with the highly skilled service delivered by Struers. They always meet our needs quickly and efficiently.

BRP Powertrain GmbH & Co. KG (Austria)

Herr Thomas Brunmair

Supervisor Material Lab


Since adopting Struers equipment, we have made significant savings within our manufacturing process as a result of reduced manpower requirements and productivity improvements.

Nissan Motor Manufacturing UK Ltd.

John Smart

Production Supervisor