Xmatic
Xmatic is a fully automated, end-to-end grinding and polishing solution.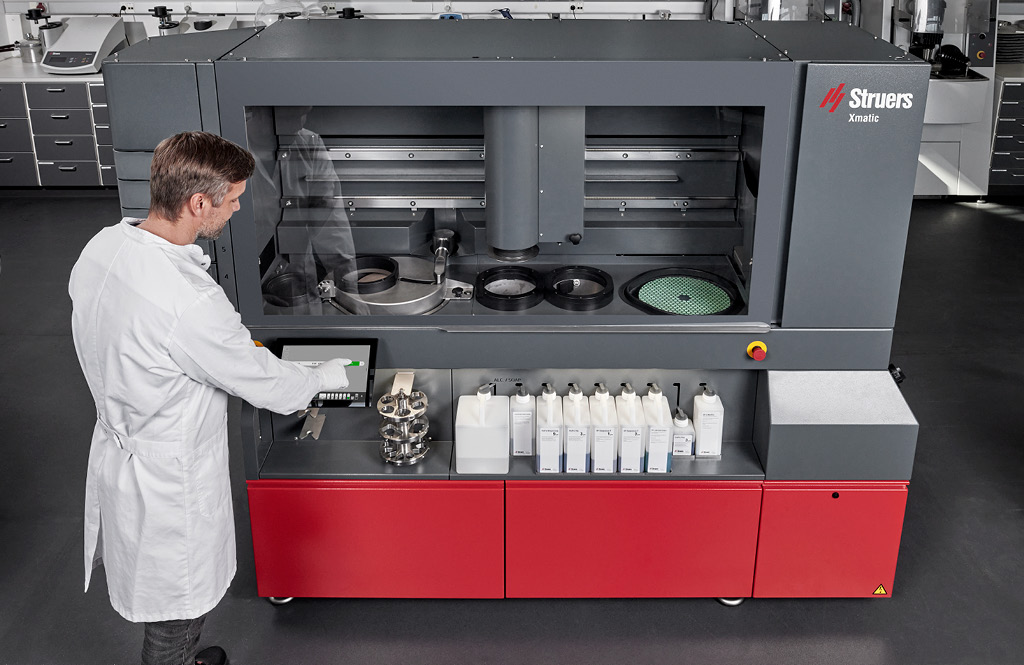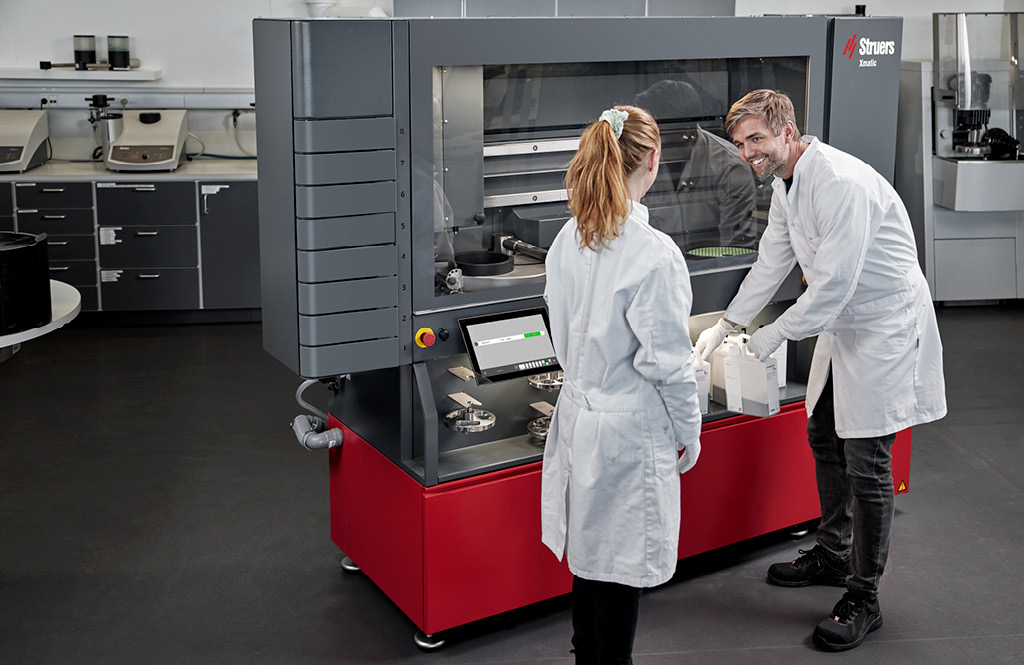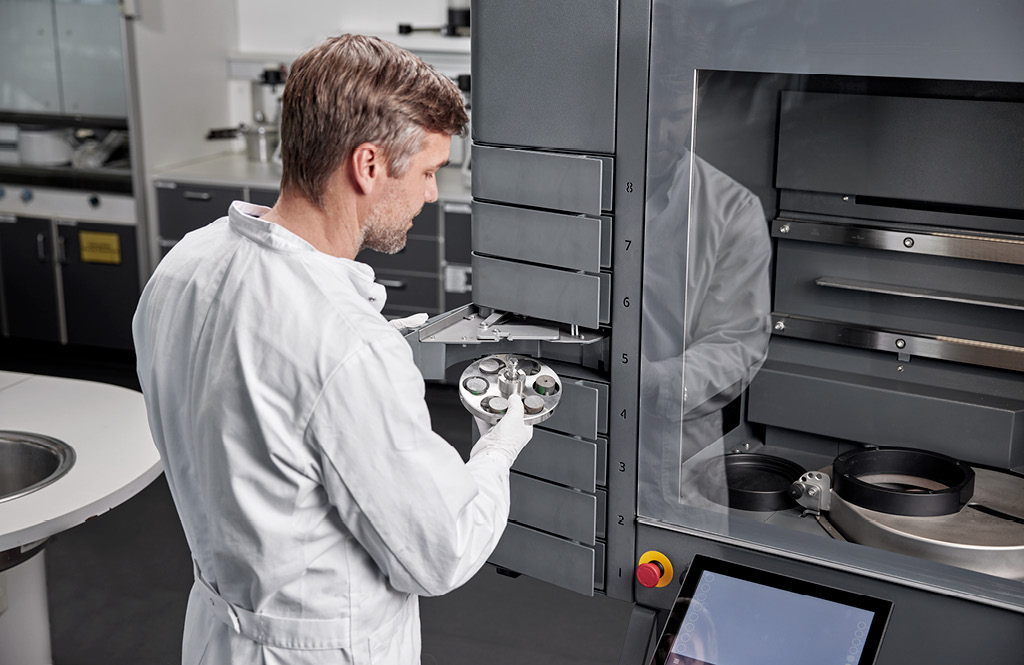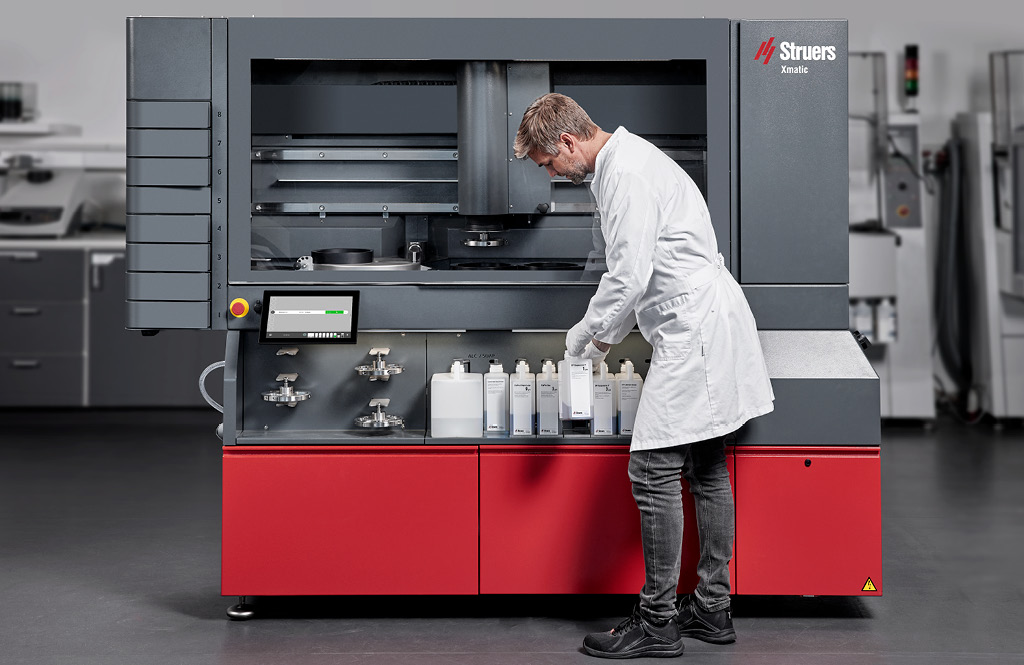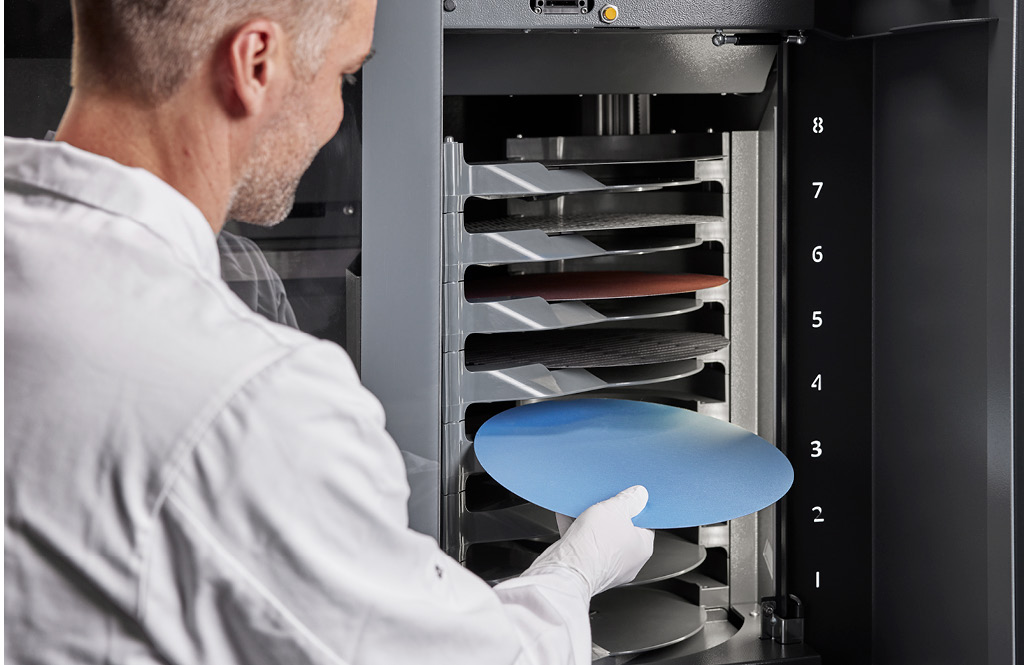 Xmatic facts
Maximum reproducibility and efficiency with full automation
Improve workplace safety with minimal operator intervention
Eliminate human error and process variation
High throughput
Support process standardization
Full process documentation
Multiple cleaning options
Plug and prepare, with minimal training needed
Xmatic is a fully automated, end-to-end grinding and polishing solution. It has been designed for labs that need the very best in terms of reproducibility, throughput, process standardization, and ease-of-use.
HOW DOES XMATIC SUPPORT YOUR GRINDING AND POLISHING PROCESS?
Maximum reproducibility
By minimizing the risk of human error, Xmatic significantly improves reproducibility. Setup is quick and simple, then Xmatic does the rest by automatically setting up parameters such as force. The result is greater reproducibility, less consumables waste, and optimized throughput, which means greater certainty.
Process standardization
Xmatic gives you full documentation data, including the number of specimen holders that it runs, methods used, consumables consumption, and operating times. This enables you to standardize your process for greater reproducibility and efficiency.
Higher throughput
Xmatic has rapid and simultaneous mechanical movements that reduce process time, including fast cleaning programs and up to 8 specimen holders that can be loaded at any time. Throughput is further increased by minimizing human error and potential rework.
Ease of use
Xmatic has been designed with simplicity, flexibility, and user wellbeing in mind. Featuring an intuitive user experience with 'embodiment', a new bottle concept with Easy connectors for fast, spillage-free consumable change, and multiple automated features that minimize the need for operator intervention, Xmatic is easy to set up and use with minimal training.

Play this video
From loading the machine to finished specimen
It takes around 5 minutes for a lab technician to set up Xmatic with consumables and insert 8 specimen holders, all with their own method. Xmatic then does the rest – automatically – while the technician works on other tasks.

This video shows Xmatic performing the entire grinding and polishing process, including:

· High removal plane grinding and fine grinding
· Pre-dosing of preparation surfaces
· Polishing
· High pressure cleaning and spin drying between preparation steps
· Final cleaning and drying of specimens
KEY FEATURES FOR MAXIMUM REPRODUCIBILITY AND PROCESS EFFICIENCY
Model types
Xmatic is available in two variations, see specifications for details.
Reproducibility that only automation can deliver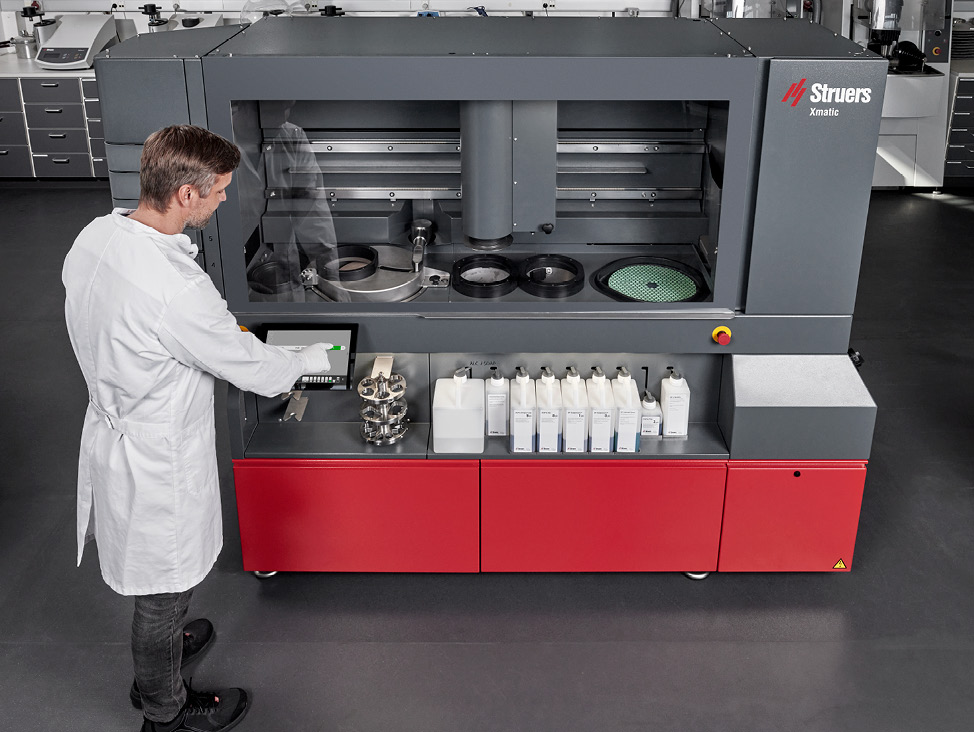 Xmatic
Xmatic has been designed to help save space in your lab, with a footprint of w: 242 cm / 95" and D: 75 cm / 29". The setup comes with a high removal grinding station and MD grinding and polishing station along with a vertical conveyor to load your specimen holders. You can choose a MD disc size of 250 mm / 10" or 300 mm / 12" depending on your requirements. Recirculation is standard on the high removal grinding station and optional on the MD grinding and polishing station. Cleaning can either be high-pressure cleaning, high-pressure cleaning including alcohol, or high-pressure cleaning and ultrasonic cleaning.
Optimize lab space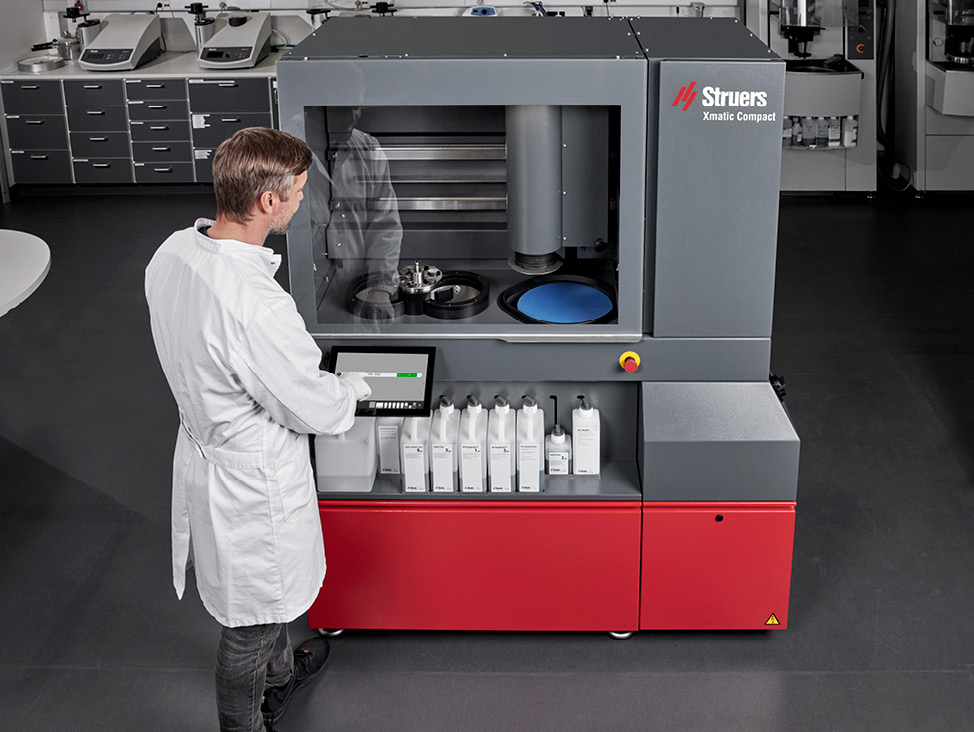 Xmatic Compact
If your lab floor space is limited, Xmatic Compact comes with or without the vertical conveyor, giving a footprint of w: 149 cm / 58" and D: 75 cm / 29". This includes an MD grinding and polishing station with speed up to 600 rpm for plane grinding on MD surfaces, with either a 250 mm / 10" or 300 mm / 12" dia. MD disc. Recirculation is optional, and cleaning can either be high-pressure cleaning including alcohol or high-pressure cleaning and ultrasonic cleaning.
Struers' equipment is in conformity with the provisions of the applicable international directives and their appurtenant standards.
Struers' products are subject to constant product development. Therefore, we reserve the right to introduce changes to our products without notice.
Technical Data
Xmatic / Xmatic Compact Technical Data Sheet
Struers Technical Data Sheets are designed to help you make the best choice of equipment for your particular purpose. You can find important information such as capacity and performance specifications, dimensions, weight, electrical data, noise levels, ambient conditions, and safety. In many cases you can also obtain an overview of accessories offering higher capacity and performance.
Download Technical Data Sheet
Get your brochure for Xmatic
Get the full introduction, descriptive visuals, and key feature descriptions to help you qualify your choice of equipment.

Get brochure now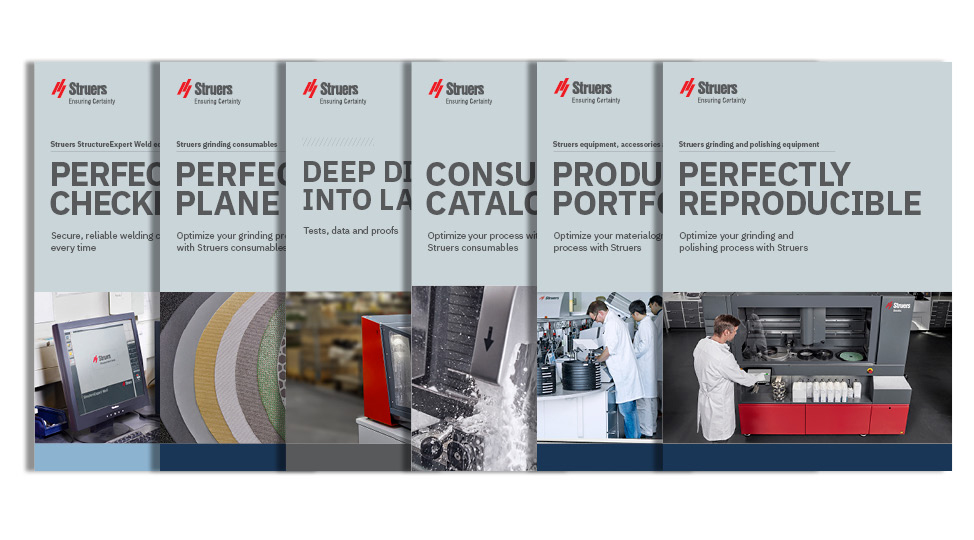 Grinding & Polishing consumables
MD Grinding

For plane and fine grinding with virtually no artifacts

DiaPro

All-in-one diamond solution optimized for a specific polishing cloth

DiaDuo-2

All-in-one diamond solution

Polishing cloths

For any material and preparation goal

DP-Products

Diamond suspensions in a wide variety of grain sizes and formats

DP-Lubricants

For accurate cooling and lubrication while polishing

Oxide Polishing

When no scratches and deformation is required
Ensuring certainty with Struers tailored support services
To optimize your processes, enhance your quality control performance and ensure equipment availability, we offer a wide range of services, training and support.
From preventive maintenance to training and process analysis, our Service Plans, Service Packages and Single Services are delivered by experienced technical service engineers and application specialists – and can be tailored to match your needs.
Correct preparation solutions
"True structures require proper and correct applications. Different material properties require broad application knowledge. Struers application specialists are experts in optimizing preparation methods, because application knowledge is necessary to select the correct preparation solutions. Your material – our application solutions."
Birgitte Nielsen
Application Specialist, Struers ApS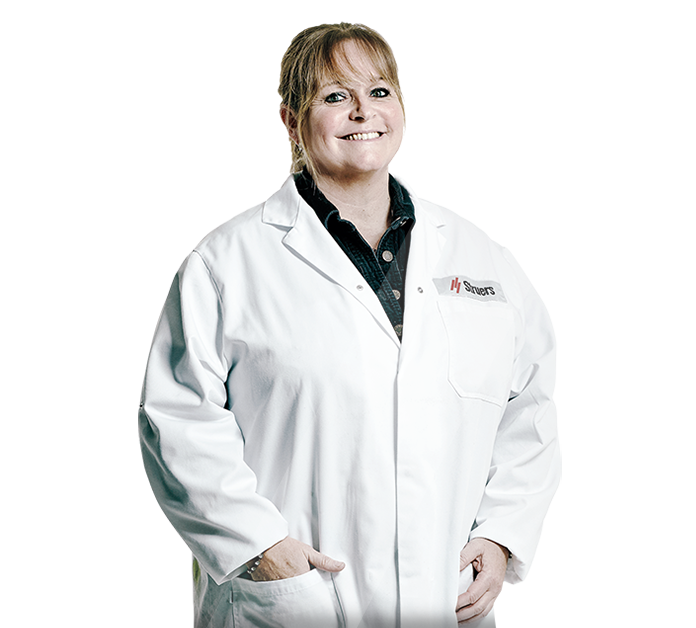 References

My relationship with Struers dates back over many years. The reason is their expert advice, good service, and their use of our application laboratory in the case of difficult questions that are best resolved on-site.

WWU Münster, Institut für Planetologie

Ursula Heitmann

Mineral Specimen Preparer


The Tegramin-25 and CitoPress-20 mean considerably easier and shorter workflows in the lab, and can be recommended.

Stahlhärterei Haupt GmbH:

Arkadiusz Bytner

Labor and Quality Management Officer

"Struers Tegramin-30 enables us to achieve specimens free of scratches for improved evaluation, and saves us time and labor when compared to our former manual preparation with aluminum oxide."

Federal-Mogul Powertrain

Mark Gibbins

Materials Tester in Metal Technology