TargetSystem
Automatic Target Preparation for Both Visible and Hidden Targets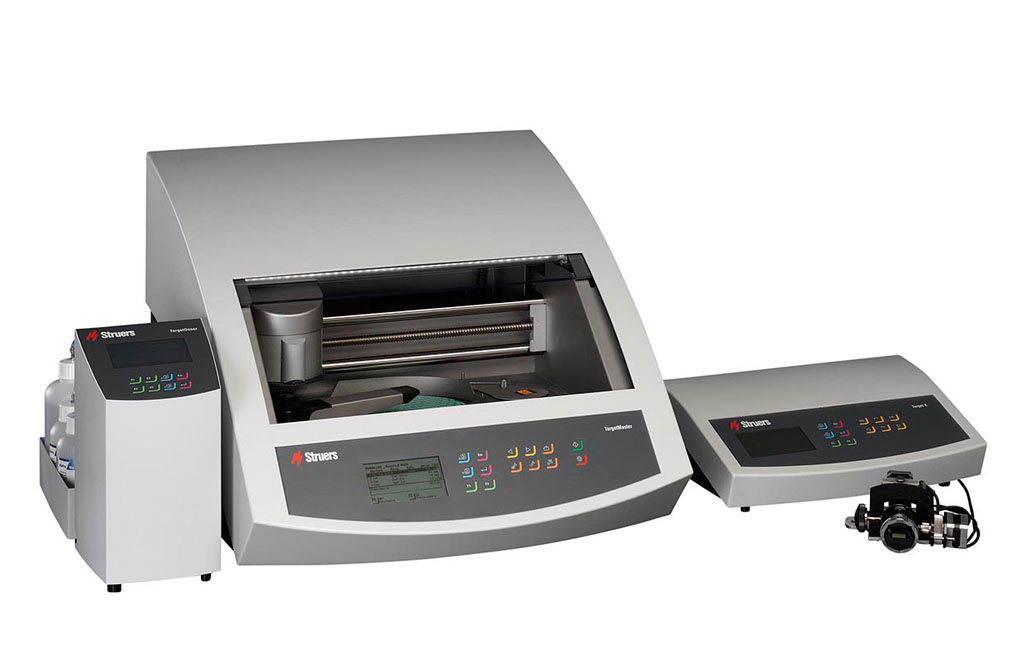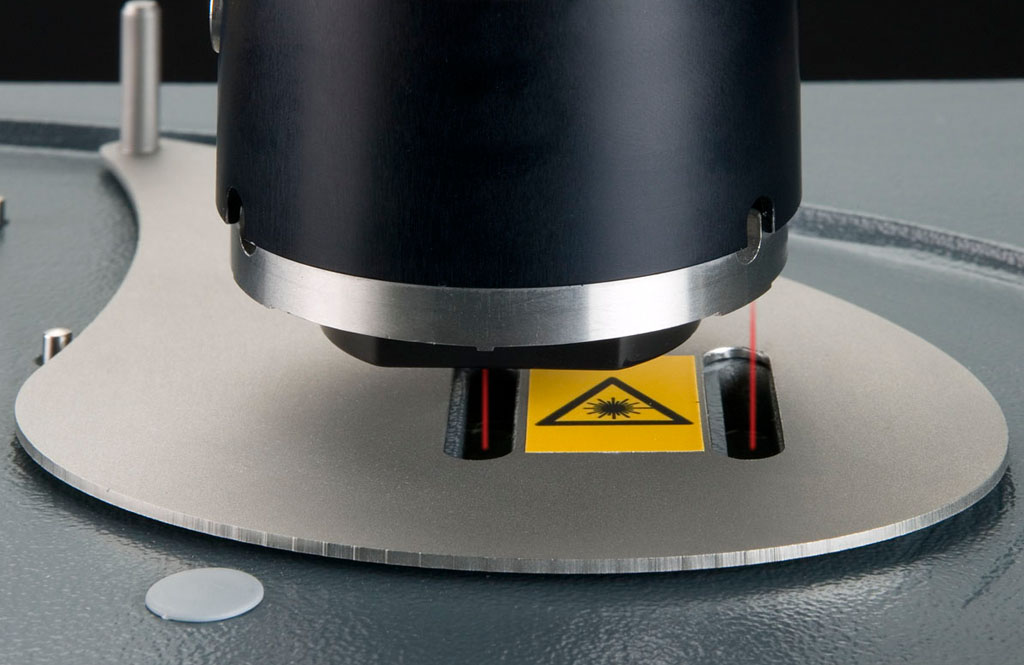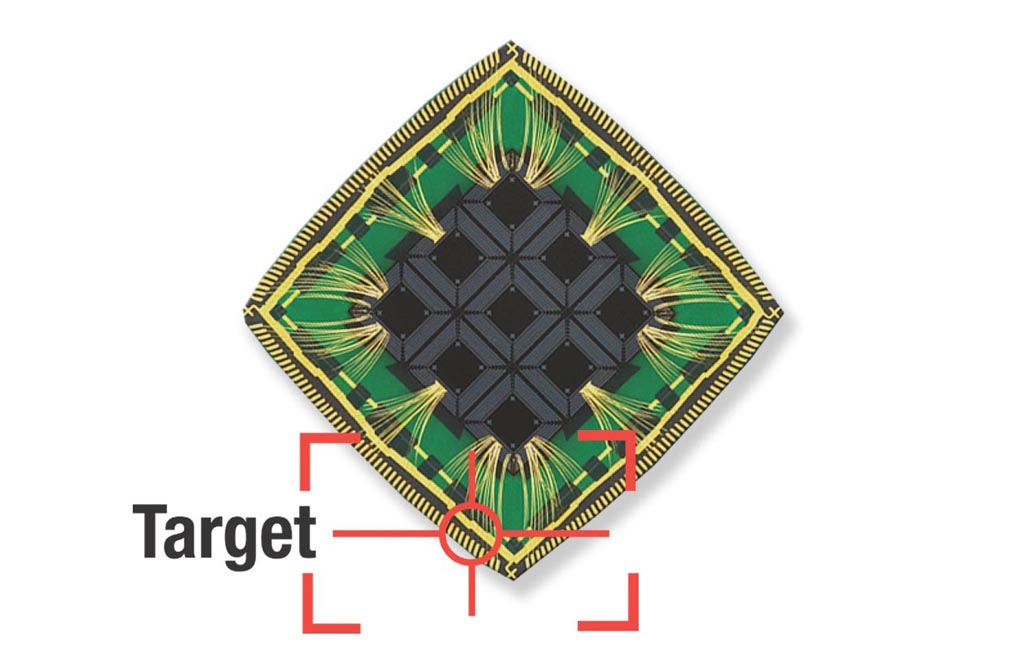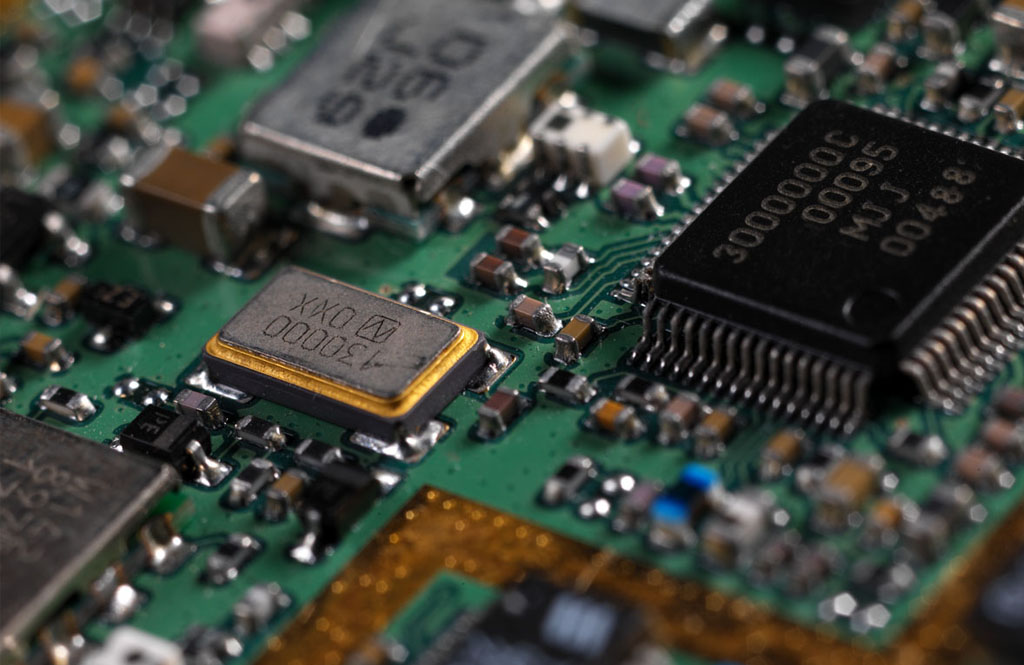 TargetSystem facts
Target preparation of microelectronic components
Automatic reliable target preparation
Analysis of visible and hidden targets
Drastically reduced preparation time
No dependency on operator skills
Full reproducibility
No need for costly abrasive films
TargetSystem is designed for target preparation of microelectronic components and delayering. It is the first failure analysis tool permitting real-time alignment and measurement of both visible and hidden targets, such as microvias and BGAs. System precision is an exceptional +/- 5.0 µm.
Short Preparation Times
An intelligent preparation system (IPS) automatically adapts the removal time and rate according to actual specimen properties and the grinding/polishing surface. This means fewer measurements and preparation times, down to less than 30 minutes.
Reproducibility
Automated processes make TargetSystem independent of operator skills, ensuring reproducibility regardless of the operator.
Low Operating Costs
TargetSystem can be used with any SiC paper, or any other consumable, and does not need costly abrasive films.

Case story: How Bosch Engineering Center Cluj increased Precision of Hidden-Target Preparation within 5 μm
KEY UNITS THAT ENABLE AUTOMATIC TARGET PREPARATION FOR BOTH VISIBLE AND HIDDEN TARGETS
Model types
TargetSystem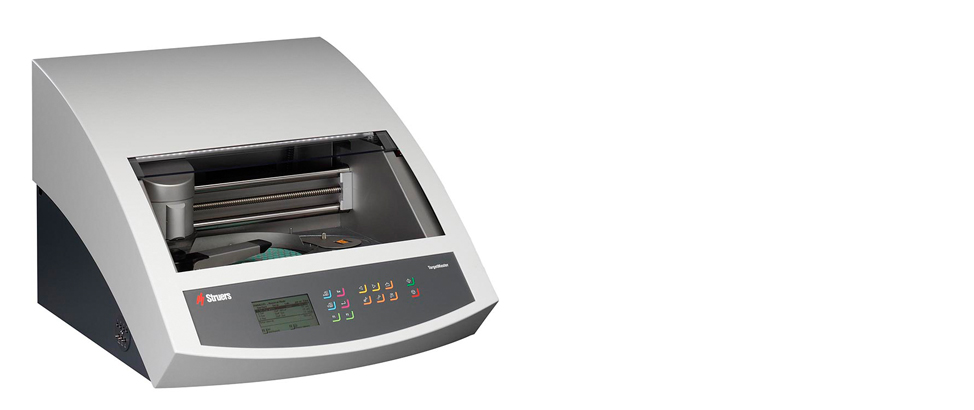 TargetMaster
200 mm micropolisher for automatic target preparation. Tiltable holder for 30 mm specimens and 200 mm MD-Disk included.

The dosing system is ordered separately.
Struers' equipment is in conformity with the provisions of the applicable international directives and their appurtenant standards.
Struers' products are subject to constant product development. Therefore, we reserve the right to introduce changes to our products without notice.
Technical Data
TargetSystem Technical Data Sheet
Struers Technical Data Sheets are designed to help you make the best choice of equipment for your particular purpose. You can find important information such as capacity and performance specifications, dimensions, weight, electrical data, noise levels, ambient conditions, and safety. In many cases you can also obtain an overview of accessories offering higher capacity and performance.
Download Technical Data Sheet
Grinding & Polishing consumables
MD Grinding

For plane and fine grinding with virtually no artifacts

Silicon Carbide Foil and Paper

For plane and fine grinding

Diamond Pads

For plane and fine grinding of very hard materials

Polishing cloths

For any material and preparation goal

DiaPro

All-in-one diamond solution optimized for a specific polishing cloth

DiaDuo-2

All-in-one diamond solution

DP-Products

Diamond suspensions in a wide variety of grain sizes and formats

DP-Lubricants

For accurate cooling and lubrication while polishing

Oxide Polishing

When no scratches and deformation is required
Challenge
The automotive electronics division of Robert Bosch in Romania was looking to improve their cross-sectioning results of microelectronic boards. Their challenge was the preparation of tiny and hidden targets beneath the surface of a BGA (electronic component) without introducing deformation to the specimen.
Solution
In cooperation with the Struers application team, a new preparation process was developed for Robert Bosch SRL to minimize deformation. They chose TargetSystem, the automatic target preparation system for both visible and hidden targets, plus Accutom precision cutting machine.
Result
Robert Bosch achieved the following results with TargetSystem:

• Increased quality and precision of results by an impressive +/- 5 µm
• Polishing/grinding preparation time was reduced
• Reduction of consumables, saving time and money

Ensuring certainty with Struers tailored support services
To optimize your processes, enhance your quality control performance and ensure equipment availability, we offer a wide range of services, training and support.
From preventive maintenance to training and process analysis, our Service Plans, Service Packages and Single Services are delivered by experienced technical service engineers and application specialists – and can be tailored to match your needs.
Correct preparation solutions
"True structures require proper and correct applications. Different material properties require broad application knowledge. Struers application specialists are experts in optimizing preparation methods, because application knowledge is necessary to select the correct preparation solutions. Your material – our application solutions."
Birgitte Nielsen
Application Specialist, Struers ApS

MEET SOME OF OUR CUSTOMERS
Don't make do with what we say! Look for the truth in the experiences of the people who use our equipment and knowledge. We asked a few of our loyal customers to tell us what they think is most important about Struers.


We have been using Struers equipment and consumables for almost 30 years and have benefitted enormously from their unparalleled service and applications support.

John Crane UK Ltd. UK

Bill Taylor

Materials & Forensics Engineer


We are extremely satisfied with the highly skilled service delivered by Struers. They always meet our needs quickly and efficiently.

BRP Powertrain GmbH & Co. KG (Austria)

Herr Thomas Brunmair

Supervisor Material Lab


Since adopting Struers equipment, we have made significant savings within our manufacturing process as a result of reduced manpower requirements and productivity improvements.

Nissan Motor Manufacturing UK Ltd.

John Smart

Production Supervisor